The Evolution of the Hybrid Workplace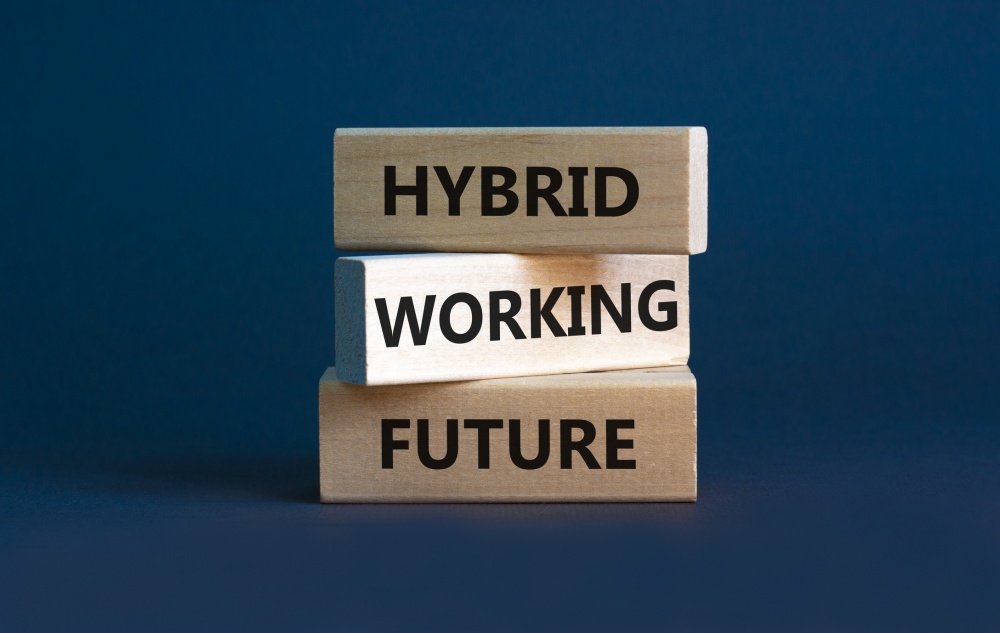 The workplace was permanently altered in March 2020, when an unprecedented global pandemic uprooted the traditional ways that companies thought and operated. What was initially expected to be a momentary pause in normal operations became a multi-year endeavor to adapt to and overcome ever-changing circumstances. Successful workplaces evolved to meet these circumstances by innovating, collaborating, and creating a new, better environment for its clients and its employees, ushering in the future of the hybrid workplace. The hybrid workplace is being adopted in many professions as a direct result of the pandemic, creating the ability to work just as well remotely as in-person, and providing employees and clients with even more benefits.
Communication methods
Thinking back to a time before remote and hybrid work became the norm, the vast majority of communication between colleagues and clients occurred via telephone calls, emails, and in-person interactions, as it had for decades. From in-person conference room meetings to conversations while getting coffee, these in-person interactions between colleagues created a collaborative environment where people strengthened both their professional and personal relationships. However, for those who work for the same company but are not in the same office, most interactions were based on telephone calls and email conversations as in-person meetings were rare. This lack of face-to-face interaction created a very different experience and did not afford the same relationship-building environment needed for a great workplace. 
With the inability to congregate in the office due to the pandemic, workplaces were forced to find new ways to communicate with both its clients and its employees. Successful workplaces took the opportunity to implement new forms of communication that will support a stronger development of relationships moving forward.
Examples of successful implementations of these new, or rediscovered, forms of communication can be found throughout the past couple of years. Successful workplaces set up new ways of communication, from messaging applications and file sharing capabilities to video conference rooms and virtual coffee breaks. Along with this new technology came increased cyber-security that allowed for employees to safely work in nearly any environment.
One such example of an adaptive workplace can be found in my former employer, the North Carolina Division of Employment Security (NCDES). NCDES handles all the unemployment claims, payments, and appeal hearings for the entire state, and was incredibly busy over the past two years. The State shifted from having in-person appeal hearings with claimants and their former employers to having all appeal hearings via teleconferences. Technology was provided to assist the employees conducting the hearings and the user interface for the parties was simplified. This new method of conducting the appeal hearings allowed Appeal Referee Attorneys to conduct up to seven hearings per day, rather than the three or four in-person hearings it could conduct in person. This greatly increased efficiency and resulted in a streamlined process that allowed NCDES to weather the storm of the pandemic.
Employees can now communicate with their colleagues and clients regardless of physical barriers, in an environment that is comparable to the traditional in-person setting. As in-person communication returns, the hybrid workplace will be further enhanced by the new set of systems and protocols that were created out of the necessity.
Culture building through collaboration
The sudden halt of in-person interactions and the resulting communication innovations now allow workplaces to build their culture and further collaboration regardless of where their employees are physically located.
Workplace culture is a primary driver for successful relationships between colleagues and clients. Building a culture of trust, respect and empowerment of employees became even more of a necessity for employers when in-person interactions were suddenly halted. Successful workplaces gave their employees additional access to resources, breaking the silos that had built up over years of specialization. The workplace culture became more collaborative, and employees were cross-trained in various areas to become more able to adjust to everchanging circumstances and challenges.
As employees spend time both working remotely and in office, successful workplaces have increased the emphasis on team-building activities, both in-person and virtually. This increased emphasis on building relationships has and will continue to have a great impact on building a collaborative and productive workplace culture.
Flexibility and long-term benefits of the hybrid workplace
The ability to have a strong work-life balance has become an even stronger point of emphasis for employees. Hybrid workplaces allow employees to work equally as well in-office and remotely. This has greatly increased the flexibility for employees to adapt to changes in their personal and work lives.
The flexibility to work in and out of the office allows for employees to maximize their ability to focus by providing them with the optimal environment depending on the nature of the work. Employees are able to save time by cutting their weekly commute, helping better manage work stress and working around their individual schedules.
The hybrid workplace also promotes a more outcome focused approach to work rather than the traditional process focused approach. These new-age workplaces have been found to create greater job satisfaction among its employees, leading to higher quality of work and greater productivity. Most importantly, the hybrid workplace creates a flexible, adaptable environment that will attract and retain both employees and clients.
DISCLAIMER: The information contained in this blog is not intended as legal advice or as an opinion on specific facts. For more information about these issues, please contact the author(s) of this blog or your existing LitSmart contact. The invitation to contact the author is not to be construed as a solicitation for legal work. Any new attorney/client relationship will be confirmed in writing.