Kilpatrick Townsend's LitSmart® E-Discovery Team Once Again Named as a Finalist for the Relativity Innovation Award for Best Law Firm Solution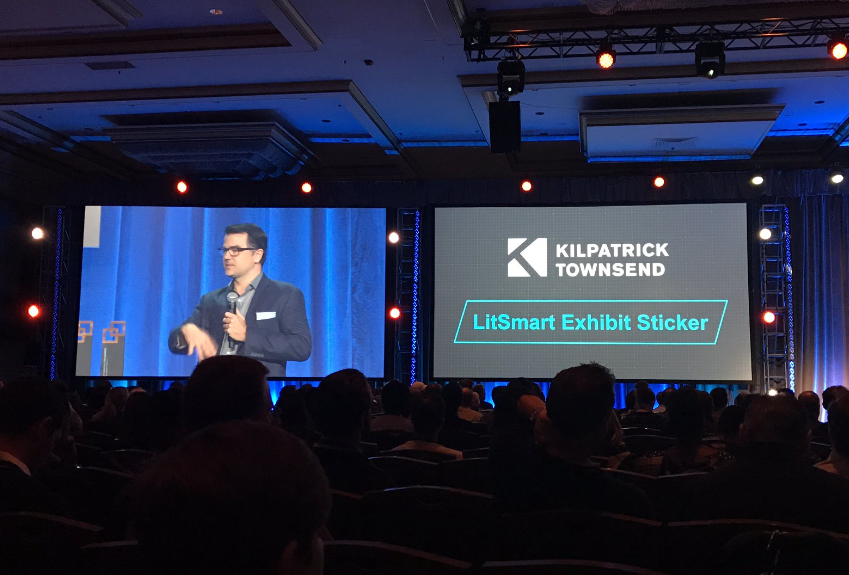 Press Release – ATLANTA (October 25, 2017) – Kilpatrick Townsend & Stockton announced today that the firm's LitSmart® E-Discovery Team has been named a finalist for the Relativity Innovation Award for Best Law Firm Solution, for the third year in a row.  
Kilpatrick Townsend's LitSmart® E-Discovery Team achieved this distinction for their development of the LitSmart® Exhibit Sticker to reduce last-minute scrambles to manually apply exhibit stickers. Fully integrated with Relativity, the application enables users to add exhibit stickers—tailored to the case and court—with the click of a button. This not only reduces time and money spent, but also reduces the risk of error.
"We are excited to once again be recognized among the nation's e-discovery elite as a finalist for the Relativity Innovation Award for Best Law Firm Solution," said Craig Cannon, LitSmart® E-Discovery Team Leader. "This is a prestigious and coveted honor, and a true testament to Kilpatrick Townsend's commitment to client service and innovation."
Relativity recognized finalists and announced winners during a special ceremony at Relativity Fest, the annual e-discovery conference held October 22-25 in Chicago. This year, Relativity Fest brought nearly 2,000 attendees from around the world together for a three-day event featuring engaging panel discussions, hands-on labs, breakout sessions, and insights from both Relativity team members and end users. Kevin Duncan, a Senior Project Manager on the LitSmart® E-Discovery Team,  presented the LitSmart® Exhibit Sticker to all Relativity Fest attendees during the final day of events.
The Relativity Innovation Awards is an annual competition celebrating organizations that use Relativity in creative ways, solving difficult or unique challenges within and outside of e-discovery. Judges selected solutions that use various application integration points to display an extensive use of Relativity's APIs to streamline processes, solve complex workflow needs, and create an altogether new solution that positively impacts business strategy.
About the LitSmart® E-Discovery Team
The LitSmart® E-Discovery Team has grown to more than 20 permanent employees stationed in offices throughout the firm's footprint. Client services include the full range of operational e-discovery services (from preservation and collection through production), document review at the 6,000 square foot LitSmart® E-Discovery Review Center, consultation on the development of enterprise-level strategies for e-discovery and information governance, providing guidance on compliance with international privacy laws, and serving as discovery counsel to corporations involved in litigation or simply for the nationwide coordination of companies' ongoing e-discovery needs.
About Relativity
At Relativity, we make software to help users organize data, discover the truth, and act on it. Our e-discovery platform is used by more than 13,000 organizations around the world – in the cloud, on-premises, or both – to manage large volumes of data and quickly identify key issues during litigation, internal investigations, and compliance projects. Relativity has over 160,000 active users in 40+ countries from organizations including the U.S. Department of Justice, more than 70 Fortune 100 companies, and 199 of the Am Law 200. As a platform, Relativity also allows developers to design, build, and integrate applications that extend its functionality.  Relativity has been named one of Chicago's Top Workplaces by the Chicago Tribune for six consecutive years. Please contact Relativity at sales@relativity.com or visit http://www.relativity.com for more information.
For more information about Kilpatrick Townsend's LitSmart® E-Discovery Team, please visit: www.KTLitSmart.com.
Follow the firm on Twitter: @KTS_Law.