Kilpatrick Townsend Named Top Law Firm Innovator at 6th Annual Relativity Innovation Awards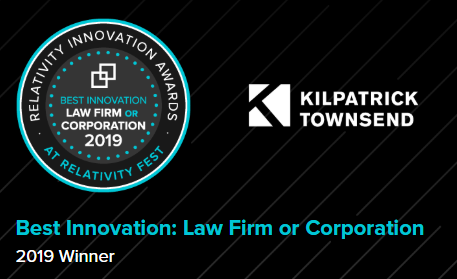 Firm's LitSmart® AutoTasker Named "Best Innovation: Law Firm or Corporation"
WINSTON-SALEM, NC (October 24, 2019) -- Kilpatrick Townsend & Stockton is excited to announce that its LitSmart® AutoTasker app has been awarded the "Best Innovation: Law Firm or Corporation" at the 6th Annual Relativity Innovation Awards ceremony. The awards ceremony concluded the 10th annual Relativity Fest user conference hosted in Chicago.
Andy Webb, Senior E-Discovery Analyst at Kilpatrick Townsend, was on-stage to accept the award from Relativity's Director of Strategic Partnerships, Drew Deitch. The LitSmart® AutoTasker app was developed to address a need to streamline and automate routine manual tasks that occur across all Relativity workspaces and ensure consistency of processes. With the LitSmart® AutoTasker, typically manual tasks are customized and run automatically once data has been loaded without the constant oversight and interaction of a LitSmart team member, resulting more consistent and efficient workflows and a measurable decrease in time spent on routine manual tasks.
"This is an incredible honor for our entire team and a recognition of the dedication and hard work it took to develop a solution to a very real need within our software environment," said LitSmart E-Discovery Team Leader and Kilpatrick Townsend Partner, Craig Cannon. "Kilpatrick Townsend is proud of our commitment to client service and innovation. It's great to know that our efforts are rewarded as the best in our category." 
The LitSmart® AutoTasker app was one of several Innovation Awards announced on-stage during the awards ceremony, which is designed to celebrate the organizations and individuals who build innovative solutions, break down barriers for technology in the practice of law, and move the e-discovery industry forward. This year's awards winners were selected by a panel of judges which included Robert Ambrogi, Peg Gianuca, Mary Pat Poteet, and Relativity's Keith Carlson (Chief Technology Officer), Amanda Fennell (Chief Security Officer) and Aileen Tien (Relativity Trace Specialist).
"I want to congratulate Andy and the rest of Kilpatrick team on developing an app that is sure to save Relativity users time and resources when completing routine review tasks," said Drew Deitch, Director of Strategic Partnerships at Relativity. "Being recognized as an Innovation Awards finalist for five consecutive years is an impressive feat and I'm happy that they get to take home the award thanks to their LitSmart® AutoTasker app."
About the LitSmart® E-Discovery Team
Kilpatrick Townsend's LitSmart® E-Discovery Team has grown to more than 30 permanent employees stationed in offices throughout the firm's footprint. Client services include the full range of operational e-discovery services (from preservation and collection through production), document review at the 6,000 square foot LitSmart® E-Discovery Review Center, consultation on the development of enterprise-level strategies for e-discovery and information governance, providing guidance on compliance with international privacy laws, and serving as discovery counsel to corporations worldwide.  
Kilpatrick Townsend & Stockton Press Contact
Kristina Travaillot
206.516.3090
ktravaillot@kilpatricktownsend.com
About Relativity
At Relativity, we make software to help users organize data, discover the truth, and act on it. Our technology is used by thousands of organizations around the world to manage large volumes of data and quickly identify key issues during litigation, internal investigations, and compliance projects. Relativity has over 180,000 users in 40+ countries from organizations including the U.S. Department of Justice, more than 75 of the Fortune 100, and 198 of the Am Law 200. RelativityOne offers all the functionality of Relativity in a secure and comprehensive SaaS product. Relativity has been named one of Chicago's Top Workplaces by the Chicago Tribune for eight consecutive years. Please contact Relativity at sales@relativity.com or visit http://www.relativity.com for more information.
###