Quarterly Spotlight On..... LitSmart Supervisor of E-Discovery Data Services, Dennis Lim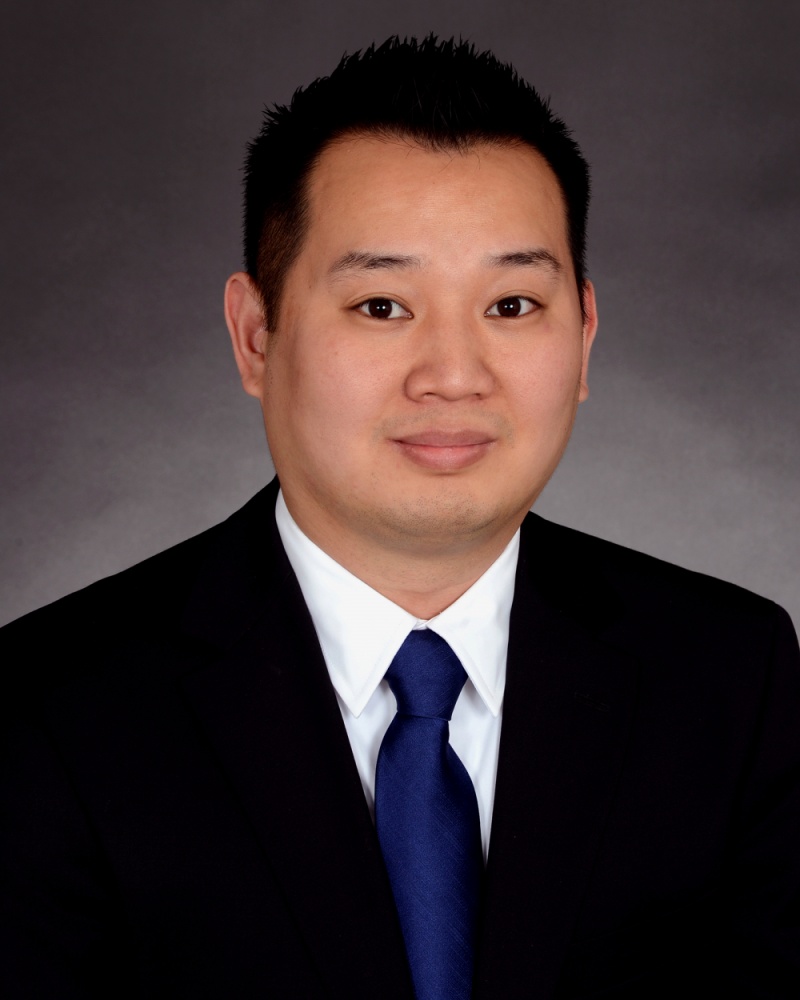 I had the recent opportunity to sit down with LitSmart Supervisor of E-Discovery Data Services Dennis Lim and find out more about his extremely interesting background and life.
SO:  Tell us a little about your background.
DL:  I grew up in Myanmar with one older brother and one younger sister. Myanmar, formerly known as Burma, is a Southeast Asian nation bordering India, Bangladesh, China, Laos and Thailand. We lived in Yangon, which was the capital city of Myanmar at the time (in 2005, the capital was moved to Naypyidaw). My parents moved our family to San Francisco in 1996 when I was 13 years old so that my siblings and I would have access to a better education. We moved in with my cousin for the first 6-7 months and there were 13-14 people living in the same house. Because I did not speak any English, I had a tough time making friends. However, I learned quickly and by the summer after 10th grade, I was more comfortable with the language and in my social life. I still speak Burmese when I'm with my parents and other family members. 
Here is a photo from Dennis' first family vacation in the US, a trip to Lake Tahoe (he is in the back row on the left).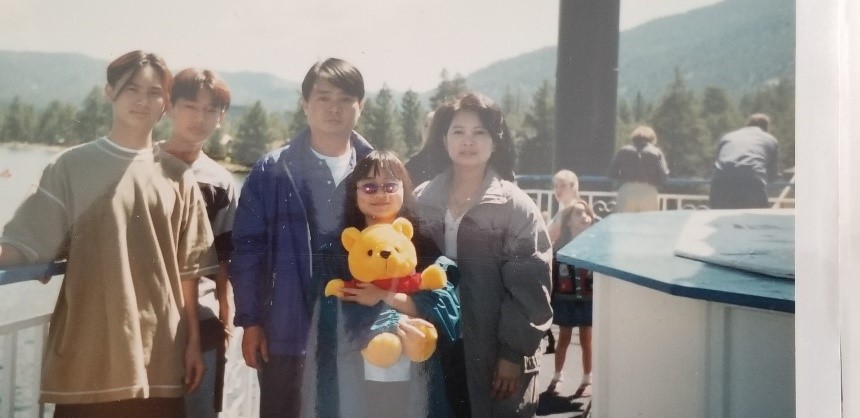 SO:  Describe your high school experience. What were some of the difficulties?
DL:  My English was better but I still had issues. When I was 16 years old I worked two jobs. In addition to school, I had a newspaper route and worked at McDonald's. I would get home around 9 p.m., do my homework and go to bed. It was rough.
Here is a recent photo of Dennis and his family, including his wife, Karen, and two-year old son, Liam (in the matching red plaid shirt).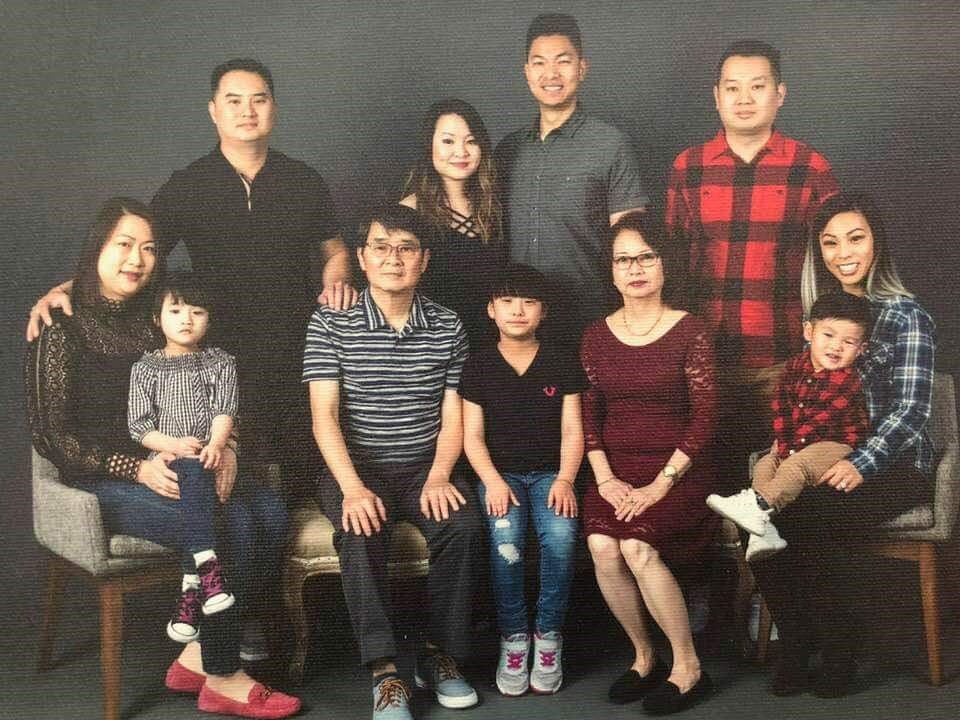 SO:  What did you do after high school?
DL:  After high school I wanted to get a job to pay my parents back for all they had done for me. I started out working a graveyard shift learning the copy/scanning business. Once on the job, the upper management noticed my work ethic and my work product. I found that I had a talent for computers and worked to hone those skills when I had spare time. I then took a job with a litigation support vendor and continued to grow my skill set. I saw a need in the area of electronic data management at this company and focused my attention on learning how to manipulate data, such as creating load files and preparing trial exhibits. I was then promoted to supervisor of the newly-created e-discovery department where I led a team of 20 people. I used e-discovery technology to increase productivity and grow the business. In 2012, I applied for a position with what was then known as the Litigation Support team at KTS. I was eager to learn more about e-discovery and the law, so when I received an offer, I jumped at the opportunity.
SO:  What do you like best about your current job at KTS?
DL:  The main thing I like about this job is the opportunity to grow and continue to learn. Since I've been at KTS, I've been encouraged to improve myself in a variety of ways. I am now a certified expert in Relativity, having passed the Relativity Certified Administrator (RCA) exam in 2015. For the past few years, I have helped to manage all of the tasks that come into the team, from processing to productions, ensuring client expectations and deadlines are met. I also regularly provide guidance and training to other team members and develop custom solutions to complex unique issues. Recently I was promoted to Supervisor of Data Services, which cemented my position as a leader on the LitSmart team. In this role, I assist with management-level decisions on technologies, making sure we continue to maintain the latest and greatest e-discovery tools here at KTS. Over the last couple of years, I have also been given the opportunity to conduct data collections and have visited clients onsite. KTS has allowed me to take every opportunity to grow and learn more about the industry. This is the perfect place for me!
SO:  Any hobbies in your spare time?
DL:  I love music! Electronic dance music (EDM) gets me going and also calms me down. I like to use dance to get rid of stress. I've been to Thailand to see one the best EDM productions in the world. Some of the festivals I attend last several days and are full of lasers, dancing and jumping around. Lots of fun! I used to promote events in and around San Francisco and really enjoyed it. I now have a wife and a two year old son, so promoting has taken a back seat to my family responsibilities, but I continue my love of electronic music and dance.
Here are a couple of photos showing Dennis and his love of EDM. The first is a photo of Dennis with his favorite DJ, Markus Schultz, in San Francisco. The second is a photo of Dennis surrounded by his friends at an EDM festival in Berkeley in 2016.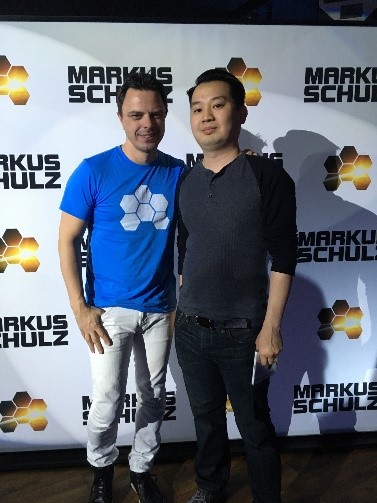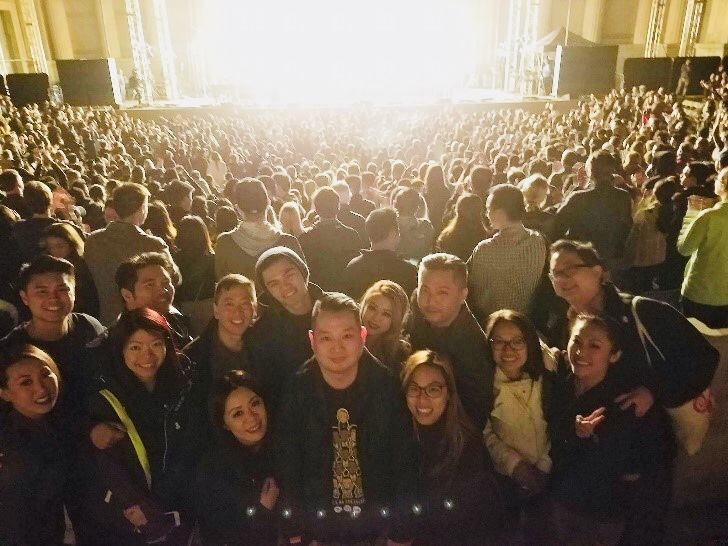 SO:  Thanks so much, Dennis. We are so grateful for your hard work, sense of humor, ingenuity and dedication to our team!