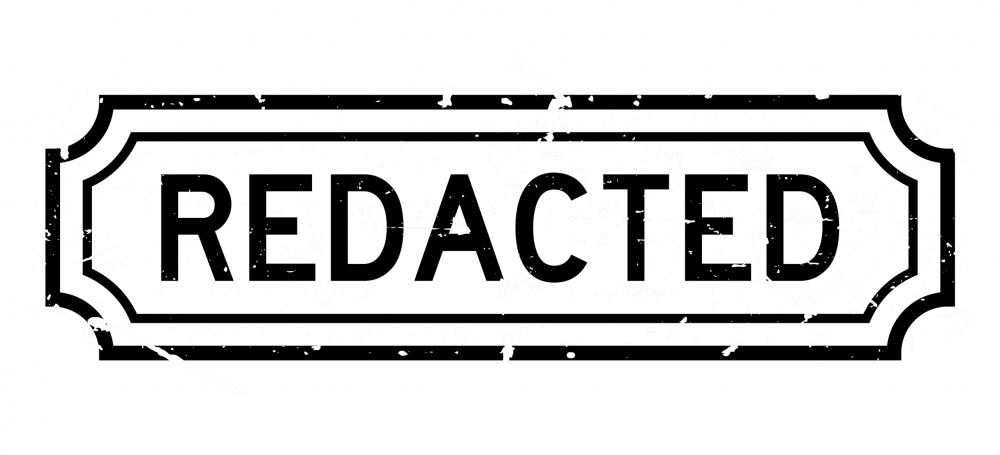 In my experience as an e-discovery project manager, I've found that one of the primary reasons for lengthy document reviews is the need to redact documents. While the extent to which redactions will be needed may not be known at the outset of a review, good project management should include recognizing when and what type of redactions may be needed. Factors to consider include the type of case, the extensive nature of the collection process, the type of files processed for review, the stipulations agreed to in the ESI protocol and protective order, the sophistication of the legal teams involved, the contentious nature of the dispute and, perhaps of equal importance, the technology available to apply those redactions.
Recently I managed a case with approximately 27,630 chat messages that needed to be redacted. Our review team ended up applying over 2 million individual redactions to these files. In the past these redactions may have been painstakingly applied one by one by a team of review attorneys. However, thanks to tools available today automating the redaction process, the redactions just took minutes to complete!
What Types of Information Need to Be Redacted?
Redactions are typically made for privilege or confidentiality. In most cases, the protective order entered in the case guides the parties (and e-discovery team) in what types of confidential information should be redacted. Redactions often become the subject of contentious debate between parties as the reason for and extent of certain redactions can have far-reaching implications on available evidence and case strategy.
During document review, the potential categories of information to be redacted should be evaluated by both subject matter and review experts before the review starts and then those categories should be re-evaluated, and adjusted if necessary, throughout the review.
Privileged Information: While attorney client privilege and work product protected are the most common types of privilege, other types to consider include patent agent privilege, joint defense privilege and agency privilege.  In most cases, in order to protect these less common types of privilege, I've been provided a separate agreement in place identifying the protected parties and the types of communications that are protected.
Personally Identifiable Information: In some cases, personal identifiable information (PII) needs to be redacted pursuant to the Federal Rules of Civil Procedure, US or foreign privacy laws or an agreed-upon confidentiality agreement. For example, FRCP 5.2(a), which governs privacy protection for filings made with the court, requires attorneys to redact specific disclosure is limited to the last four digits of a Social Security or tax ID number, the year of an individual's birth, a minor's initials or the last four digits of a financial account number. Additional PII that may need to be redacted includes the following: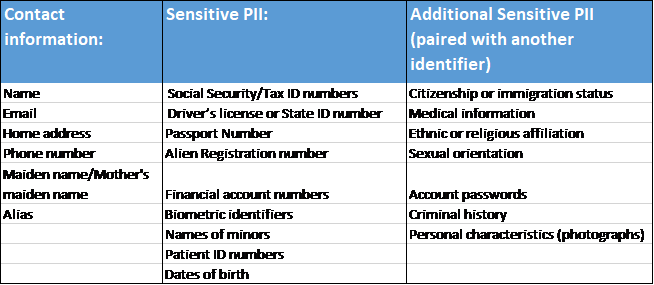 Confidential Information: Redactions of confidential information typically cover two scenarios: (1) information about other projects or products that are not relevant to the dispute; or (2) information that is of a highly sensitive and business nature, such as internal business strategy. Oftentimes, this information may already be subject to confidentiality agreements or NDAs with third parties preventing its disclosure. In these cases, redactions may be made of confidential material.
Non-Responsive Information: In some rare cases, we are asked to redact information that is not responsive to discovery request and not relevant to the dispute. This information is not necessarily confidential. Typically, the parties have entered into an agreement that allows for this type of redaction.
Determining what should be redacted and then making sure that information, and nothing more, is redacted, can be difficult. Making such a determination requires significant attention to detail and, ideally, layers of review. My colleague, Peter Jacobus, wrote a fantastic blog on redacting sensitive information, which you can find here.
How Are Redactions Applied to Electronic Documents?
Websites for courts and regulatory entities typically provide information describing how redaction should be submitted. Confidential agreements and ESI protocols also often contain specific information regarding what information can and should be redacted. The standard workflows used in document review include:
Image Redactions: Most e-discovery software has the ability to apply redactions to document images. This method is faster than redactions made by hand or in pdf but it is still, for the most part, a manual process that can be time consuming if the volume is high. In most cases, our review teams insert white box redactions with the reason in black bold type. For example, the redacted text might have "Redacted for PII" or "Redacted for Privilege" in its place. I often also see black box redacted (with no text at all) or cros box redactions (with an "x" across the redacted area). In my experience, however, redactions with no reason provided can lead to heated discovery disputes. 
Native Redactions: Some e-discovery software also has the ability to apply redactions to native files (such as an excel spreadsheet). While image redactions are preferred (because the original file is not being altered per se), in some cases native redactions are the best option. In large spreadsheets with dozens or hundreds of columns and rows, some tools can even identify repeated information or information in a specific format (such as an email address or social security number) and automate the redaction of cells containing that information. Automated redactions are not limited to spreadsheets, however; in the case mentioned above with over 2 million individual redactions, we were able to automate redactions of ID numbers in a collection of pdf files.
Propagation of Redactions: Some e-discovery software, particularly those with relational databases, can expand redactions to related documents by generating the same markup applied to the first document. Propagation is an efficient way to redact duplicate documents and it offers consistency during document review.
What Are Some Electronic Redaction Pitfalls?
Every once in a while a case has issues with electronic redactions and information that should not be disclosed is inadvertently disclosed. As an initial matter, all cases should have a clawback or 502(d) agreement that allows for the return of such material. However, beyond the clawback, the risks of improper redacting can be mitigated with careful review and attention to QC. An electronic redaction on an image or a native file does not automatically become part of the original document, so care should be taken to make sure any documents exported or transferred maintain those redactions. Also, e-discovery software tools vary so the way the redactions exist within the systems varies as well. Transferring redactions from one Relativity database to another, for example, is typically seamless; however, transferring redactions from Relativity to another e-discovery tool may mean the redactions are not captured.
DISCLAIMER: The information contained in this blog is not intended as legal advice or as an opinion on specific facts. For more information about these issues, please contact the author(s) of this blog or your existing LitSmart contact. The invitation to contact the author is not to be construed as a solicitation for legal work. Any new attorney/client relationship will be confirmed in writing.
Subscribe to the E-Discovery Newsletter